Hosts (voiceover only)
Mark Henning (1998)
Casey Kasem (1999)
Broadcast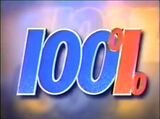 Pilot: 1998
Syndication (Daily): 1/1999 – 9/17/1999
Packager
O.H.P. Productions
Distributor
Pearson Television
100% was a short-lived syndicated game show where three contestants answer a series of 100 general knowledge questions by pushing buttons corresponding to the answers.
The twist was that throughout the game, the scores were mentioned every 10 questions, but not who had which score, although the contestants were told if there was a change in the lead.
While most of the questions were multiple choice, with choices labeled A, B, and C, every fifth question was a true/false question, while Question 100 took the form of a ridiculous fact that was almost always true.
The winner received $10 per correct answer, with a $99,000 bonus if he/she managed a perfect score (for a total of $100,000); however, it was never won during the show's brief run.
The show aired in only seven markets:
Seattle, WA
Columbus, OH
Dallas, TX
Houston, TX
Buffalo, NY
Jacksonville, FL
Tampa, FL
Since the show had a limited run, it did not last a full season.
A French version of the show called 100% Question (100% Issue in English) hosted by Pascal Hernandez aired on France 5 from 1998 until 2004.
An Italian version of the show hosted by Gigio D'Ambrosio aired on LA7 from 2001 until 2002.
The original British version aired on Channel 5 for four years from 1997 to 2001. In addition, the series also had a few share of spinoffs series such as, 100% Gold from 1998 until 1999, a 1998 pilot called The 100% Guide to Sex and 100% Sex from 1999 until 2001.
The original series was hosted by Robin Houston, while its spinoff 100% Gold was hosted by Melinda Walker. In addition, this version was often billed as "The game show without a host".
Based on the British franchise of the same name by Tom Atkinson, which awarded £100 to the winner.

Game Show Pilot Light: 100% (U.S.) Pilot
UK Game Shows page on the franchise
The 1998 pitchfilm (while the pilot circulates with this attached, the pilot is not known to be online)
Uproar.com plug, 1998
Closing credits, 1998
Community content is available under
CC-BY-SA
unless otherwise noted.