Host
Jack Clark
Announcer
Scott Vincent
Broadcast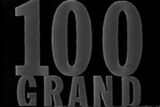 ABC Primetime: 9/15-29/1963
Packager
Larry-Thomas Productions
100 Grand was a short-lived quiz show where the top prize was $100,000.
One contestant, having possessed a knowledge or lead in a specific subject or field, asked questions of a professional on that same subject for cash. The player who stumped the professional for five weeks, had the show survived that long, would have had the privilege to answer five questions submitted by home viewers, and ended up with a grand total of $100,000 if successful.
Only two contestants appeared on the series – one questioning a Civil War expert, the other questioning an opera expert. On the third show, both professionals stumped the amateurs, both of whom were awarded $1,000 savings bonds while the professionals each won $10,000.
Studio A, ABC 66th Street Studios, New York City, NY

Television Obscurities article on the history of 100 Grand
Debut promo from ABC's 1963 Fall Preview
Intro of the September 15, 1963 Premiere (audio only)
Community content is available under
CC-BY-SA
unless otherwise noted.