Hosts
Bill Slater (1946–1954)
Jay Jackson (1952–1955, Television Version Only)
Jack Clark (1975)
Announcers
Radio:
Jack Irish
Frank Waldecker
Bruce Elliott
Television:
Frank Waldecker
John Greyson
Bob Shepard
Broadcast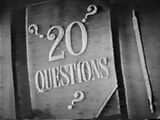 Mutual Radio (Weekly): 2/2/1946 – 3/27/1954
WWOR: 11/2-25/1949
NBC Primetime: 11/26/1949 – 12/24/1949
ABC Primetime: 3/17/1950 – 6/29/1951, 7/6/1954 – 5/3/1955
DuMont Primetime: 7/6/1951 – 5/30/1954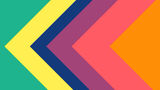 Unsold Pilot for ABC: 1975
Packagers
Fred Van De Venter Productions/Mutual Broadcasting (1946–1955)
Ron Greenberg Productions/MCA-TV Ltd. (1975)
20 Questions was a show where a group of five panelists had to guess an item by asking up to twenty questions. The topics were sent in by home people, who won prizes (originally pocket lighters) if their entries were used, and bigger prizes (originally hostess smoking sets) if their subjects stumped the panel.
International Versions
[
]
In Canada, 20 Questions aired on CTV in 1961; its host, Stewart Macpherson, went on to become the original host of the UK version.
In Hungary, the game is known as Barkochba, named after Simon bar Kokhba, the leader of the second century Jewish uprising against the Romans. The story goes that the Romans cut out a spy's tongue, so when he reached bar Kokhba's camp, he was only able to nod or shake his head to answer bar Kokhba's questions. The number of questions is not limited to twenty.

Barkochba was staged as a television game show called Kicsoda-Micsoda? (later renamed Van Benne Valami) on the Hungarian national television Magyar Televízió from 1975 to 1991. It was the first show presented by István Vágó, who would later host the Hungarian versions of Jeopardy! (Mindent vagy semmit!) and Who Wants to be a Millionaire? (Legyen Ön is milliomos!).

In Ireland, a bi-lingual (Irish/English) version of 20 Questions aired on RTE Radio 1 in the 1960s and 1970s. It was hosted by Gearóid Ó Tighearnaigh, written by Dick O'Donovan and produced by Bill O'Donovan (occasional panelist) and included Dominic O'Riordan, Tony Ó Dálaigh, Seán Ó Murchú and Máire Noone on the panel. It proved enormously popular, travelling the length and breadth of Ireland, hosted in local clubs and community halls.
In Norway, NRK aired its own version continuously from 1947 to the early 1980s. In 2004, the radio series was revived and regained its popularity, leading to a 2006 TV version. The Norwegian 20 spørsmål continues on NRK radio and TV, and a web-based game is available at the official NRK website. A 2006 board game based on the series is currently the prize sent to listeners who beat the panel.
A Polish version, 20 pytań was shown onn TVP1 in 1960s, and its hosts were Ryszard Serafinowicz and Joanna Rostocka. In this version there were three teams of three: mathematicians, journalists and a mixed team from Łódź. The show was cancelled due to a scandal, when it turned out that mathematicians used binary search algorithmto answer the questions, using to it Wielka Encyklopedia Powszechna PWN.
In the United Kingdom, the BBC aired a version on radio from 28 February 1947 to 1976 with TV specials airing in 1947 and 1948 plus a series from 1956 to 1957. On radio, the subject to be guessed was revealed to the audience by a "mystery voice" (originally Norman Hackforth from 1947 to 1962; he was later a regular panelist). Hackforth became well known amongst the British public as much for his aloofness as his apparent knowledgeability.

The series was originally presented by Stewart MacPherson. The panel was comprised of Richard Dimbleby, Jack Train, Anona Winn and Joy Adamson, in later years comedian Peter Glaze also. A later presenter, Gilbert Harding, was ousted in 1960 by producer Ian Messiter when, after having drunk a triple gin-and-tonic he had originally offered to Messiter, he proceeded to completely ruin the night's game – he insulted two panelists, failed to recognise a correct identification after seven questions (after revealing the answer upon the 20th question, he yelled at the panel and audience), and ended the show three minutes early by saying "I'm fed up with this idiotic game … I'm going home". He was replaced by Kenneth Horne until 1967, followed by David Franklin from 1970 to 1972.
A revival ran for one season in the 1990s on BBC Radio 4, hosted by Jeremy Beadle. A version with a rival line-up, produced by commercial station Radio Luxembourg, is not acknowledged by the BBC. Another revival, under the title Guess What?, was hosted by Barry Took for a single series in 1998.
A televised version ran from 1960 to 1961, produced by Associated-Rediffusion for ITV and hosted by Peter Jones (who later hosted in 1974). The "mystery voice" later became a running gag on the radio series I'm Sorry I Haven't A Clue.
The BBC World Service also broadcast a version called Animal, Vegetable and Mineral, chaired by Terry Wogan with a panel including Michael Flanders.
See Also
[
]
20Q - Gameplay variation, based on the electronic game.
Studio
[
]
New Amsterdam Theater, New York City, NY
Tickets
[
]
YouTube Links
[
]
A full episode from January 18, 1952
A full episode from November 16, 1953