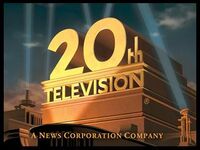 Twentieth Television (20th Television) was an American television production and syndication company owned by 20th Century Fox Film Corporation, a division of the Fox Entertainment Group, part of 21st Century Fox.
20th Television was formed in 1989 by Fox Inc. (the News Corporation unit that oversaw 20th Century Fox at that time) in order to separate 20th Century Fox's television productions (which were previously handled by its 20th Century Fox Television division) from the movie studio in order to increase the latter's output. During this time, 20th Television and 20th Century Fox served as two of Fox's four main units, along with the Fox Broadcasting Company and Fox Television Stations. Following a 1994 restructuring of Fox's television production companies, 20th Television was refocused on syndication and "non-traditional programs"; its network television division was moved back to 20th Century Fox and retook the 20th Century Fox Television name.
20th Television distributes almost all programming from the television production unit and its subsidiaries and the motion picture studio's output (and their own subdivisions); since sister company 20th Century Fox Television produces most of the Fox network programming, 20th Television can also be considered the network's syndication arm.
As part of the restructuring that stemmed from News Corporation spinning off its entertainment assets into 21st Century Fox, it was announced on July 8, 2013, that 20th Television will operate under the management of 20th Century Fox Television; it was previously under Fox Television Stations. As a result, the former company's president will now report to the latter's chairmen.
The company syndicates and/or co-syndicates product from partners such as Regency Television and Debmar-Mercury. It owns programming from other production companies and studios they've acquired, including MTM Enterprises, most by Metromedia Producers Corporation, most by Four Star Television and select programming from New World Communications/Genesis Entertainment and Cannell Entertainment.
On March 20, 2019, 21st Century Fox was purchased by the Walt Disney Company, with 20th Television being absorbed into Disney-ABC Home Entertainment & Television Distribution.
Gallery
[
]
See Also
[
]