Host
Jay Schadler
Broadcast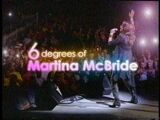 ABC: July 30, 2007
Packager
ABC News Primetime
6 Degrees of Martina McBride (or Six Degrees of Martina McBride) was a two-hour special/broadcast pilot that combined a country music competition along with the social theory most commonly known as the Six Degrees of Separation but with popular country singer Martina McBride as the main theme.
Judges
[
]
Miranda Lambert
Ray Benson
Beverly Keel
List of Contestants
[
]
Mark Jaspers
Thomas Stratton
Dani Riker
Kristina Marie Craig
DeAnn Roberts (Winner)
Ken Swick
Premise
[
]
Six aspiring country music singers from America's smallest towns tried to connect themselves with popular country music singer Martina McBride in under six points of human connection. Those that made it from "Nowhere to Nashville to New York", were given a studio section with Martina McBride and a shot at a record deal with Sony BMG. In addition, the special also told McBride's own unique story of six degrees which advanced her from selling T-Shirts for Garth Brooks to opening for him on stage to becoming one of country music's big superstars.
Rating
[
]

YouTube Links
[
]
6 Degrees of Martina McBride Promo
6 Degrees of Martina McBride Promo Clip