Host
R. Brandon Johnson
Broadcast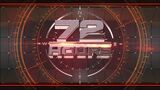 TNT: 6/6/2013 - 7/26/2013
Packager
Lighthearted Entertainment
72 Hours was a short-lived reality competition where three teams compete to find a briefcase full of cash in just three days in this reality series. While being dropped in the wilderness of exotic lands, they must battle elements and survive harsh terrains.
Premise
[
]
The competitors are only given three days and a GPS (Global Positioning System) tracking device to find a hidden suitcase full of cash. Along the way, they must hike across a treacherous terrain and battle the elements to locate the cash before their rival teams do.
Rating
[
]

Trivia
[
]
This show aired on the same day as another reality series called The Hero.
Link
[
]