Hosts/Bachelorettes
Erica & Victoria Mongeon (Rikki & Vikki/The "Ikki" Twins)
Broadcast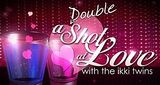 MTV: 12/9/2008 – 2/3/2009
Packager
495 Productions
Distributor
MTV Networks
A Double Shot at Love with the Ikki Twins was another spinoff from A Shot at Love With Tila Tequila where 12 bachelors and bachelorettes are vying for the affections of Erica "Rikki" and Victoria "Vikki" Mongeon.
Premise
[
]
The show, like its predecessor, is a bisexual-themed dating competition where 12 hetero males and 12 lesbian females live in a house with Rikki (Erica Mongeon) and Vikki (Victoria Mongeon) and compete for their attention and affection.
Music
[
]
"Ooh Uh Huh" (Theme) - The Millionaires
Rating
[
]

Trivia
[
]
One of the contestants, Kandice (Kandi) Hutchinson, died in a car crash shortly after the end of production. Out of respect to her family, the producers edited Kandi's scenes to remove some of her more outrageous behavior. The second episode of the series was dedicated to her memory.
On August 4, 2010, Vikki Mongeon poster on her Myspace blog that she and Trevor spilt up.
Related Shows
[
]
A Shot at Love With Tila Tequila
That's Amore
Double Shot at Love with DJ Pauly D & Vinny
Link
[
]