Hosts
Ben Alexander
Tom Kennedy (sub)
Announcer
Tom Kennedy
Broadcast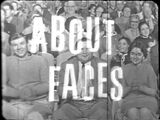 Pilot: 5/6/1959
ABC Daytime: 1/4/1960 – 6/30/1961
Packager
Ralph Edwards Productions
Amercian Broadcasting Company
About Faces (not to be confused with All About Faces) was a short-lived daytime game show where contestants selected from the studio audience played various games along with the goal of reuniting long separated friends and relatives.
Gameplay
[
]
Two contestants were given clues about incidents in their lives. The first contestant to guess the relationship with the opposite person correctly was the winner and won prizes.
Another game involved a contestant trying to recognize a face from their past. They were given a clue to start the game, and had three minutes to question a guest who answered with yes or no responses.
Yet another game involved studio audience members, who were shown celebrity baby pictures, and had to decide which one was of the episode's special guest.
There was also a viewer segment called "Place the Face", partly inspired by a previous Edwards game show from the early 1950s.
Inventor
[
]
Ralph Edwards, based on Place the Face
Studio
[
]
ABC Television Center, Los Angeles, CA
Rating
[
]

YouTube Videos
[
]
The full 1960 premiere (special guest is Zsa Zsa Gabor)
Part 1
Part 2
A full episode from March 17, 1960 (Tom Kennedy sub-hosts; special guest is Margaret O'Brien)