Host
Mitch Mullany
Coaches
Geri Halliwell
John Salley
Suzanne de Passe
Broadcast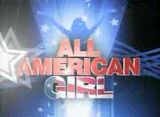 ABC: 3/12/2003 – 4/24/2003
Packager
19 Entertainment
Buena Vista Pictures
All American Girl (not to be confused with the short-lived 1994-1995 sitcom starring comedienne Margaret Cho of the same name airing on the same network) was a short lived search for the nation's most "well-rounded woman".
Gameplay
[
]
The show started with 45 female contestants vying for the title of the same name. In the first episode, the field was cut down to fifteen by means of a talent show competition and obstacle course where three coaches (Geri Halliwell, John Salley and Suzanne de Passe) decided who the fifteen finalists would be. After the fifteen finalists were decided, the coaches picked five girls to be on their team for the whole series. During the show, the three teams went through a training camp to train them in a vast array of disciplines that included athletic ability, mental agility, performance in the popular arts and beauty. Each week, some of the contestants were cut from the competition until there were only six contestants, followed by another cut down to the final three. The winner was decided by viewer phone voting.
Rating
[
]

Trivia
[
]
Jessica Felice, a native of Gahanna, Ohio, won the series.
The program started in midseason 2003, but due to low ratings (and one episode having been pre-empted the night of the declaration of the Iraq war) ended on the cable network ABC Family with marathons and tie-in programming in an attempt to salvage the series.
Host Mitch Mullany, best known for being on hit WB sitcoms such as The Wayans Bros. as White Mike and Nick Freno: Licensed Teacher as Nick Freno, died of a diabetic-related stroke at the age of 40 in 2008.
Gallery
[
]
Link
[
]