Hosts
Charlie Jones (play-by-play, 1975–1976)
Lynn Shackelford (color commentary, 1975–1976)
Sam Riddle (field reporter, 1975–1976)
Dick Whittington (field reporter, 1975)
Regis Philbin (field reporter, 1976)
Bill Boggs (1977–1978)
Announcer
Sam Riddle (1977-1978)
Broadcast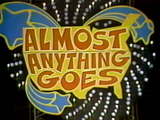 ABC Primetime: 7/31/1975 – 8/28/1975, 1/24/1976 – 4/24/1976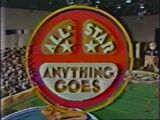 Syndication (Weekly, as All-Star Anything Goes): 9/16/1977 – 9/1978
Packagers
Bob Banner Associates
Robert Stigwood Organization
Distributor (1977–1978)
Viacom
Almost Anything Goes was a tournament with teams from all over America competing in physical challenges.
Gameplay
[
]
Contestants divided up into three teams played a series of wacky and outrageous physical contests. Examples in the first episode included:
Carrying a loaf of bread while sliding across a greased pole suspended over a swimming pool
Balancing an egg on one's head while riding through an obstacle course in a golf cart
Diving into a pool and climbing onto a raft in order to dress in formal clothes
Scoring
[
]
In 1975, scoring varied: some events were scored based on 1st/2nd/3rd finishes; others were scored based on how the team did overall regardless of their placement.
In 1976, 10 points went to the 1st-place team, 5 to the 2nd-place team, and 3 to the 3rd-place team. (The final event was scored 20-5-0.)
In either case, the team with the highest score advanced in the tournament.
Tournament
[
]
In the 1975 season, there were four regional events (North, East, South, and West); each had teams representing cities with populations of 20,000 or smaller from three different states, and each city had to be within 200 miles of the other two. The four winners then met in a national final.
The 1976 season consisted of 14 episodes, broken up into nine episodes where all three cities were from a particular state, three regional finals (East, South, and West; there was no North regional in this season) consisting of three state winners, a national final consisting of the three regional winners, and a "Supergames" where the winning team competed against the winners of the 1975 season and a team of celebrities representing Hollywood.
Inventor
[
]
Based on the French format Intervilles by Guy Lux.
Print Ads
[
]
Spin-Offs
[
]
Junior Almost Anything Goes – Kids' version aired 1976-1977
The Grand Knockout Tournament – Special aired on USA in 1987

Rating
[
]

Links
[
]
Almost Anything Goes at Game Shows '75 (via Internet Archive)
YouTube Videos
[
]
A full episode from March 1976 (Texas State Championship: Fort Stockton vs. Pecos vs. Monahans)
A WDSU promo from December 25, 1977 (plugging the December 27 airing of the below episode)
Clips of an episode taped May 22, 1977 (The New Mickey Mouse Club vs. Little House on the Prairie; KMSP airing from April 11, 1978)