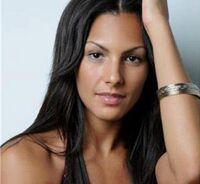 This sassy small-town girl is on her way to making big tracks in the city of dreams. With a personality as unique as her name, this exotic beauty has already graced the pages of magazines like Seventeen and Flaunt. Smith has appeared in several television commercials and is on billboards all across the U.S. for the trendy new hot spot, Lucky Strike.
Smith is the only girl in a family of three children. This has contributed to her somewhat adventurous personality. Whil seh enjoys rugged outdoors activities such as fishing, horseback riding, mountain biking and water sports, Smith also has a girly side and enjoys shopping, cooking and hanging out with her girlfriends.
Smart, edgy and comedic are just a few words best used to describe her personality. You can always count on her to be great company because she enjoys laughing and making others laugh.
From a very young age, Smith knew she was a performer by heart. Smith began taking gymnastics as a child and loved to entertain the crowd. After attending Indiana State University for interior design, Smith decided to take a different career path. Smith moved to Indianapolis where she became a professional cheerleader for the Indianapolis Colts.
Finally, Smith got on a plane to Los Angeles to pursue her passion in the entertainment industry. Currently, Smith devotes her time to teaching young kids dance and gymnastics, along with pursuing her career as a television host.
Amanza Smith is one of the Deal or No Deal models holding Briefcase #8 (subbing for two episodes for Mariela Arteaga) before she moved to Briefcase #19 as her permanent briefcase to replace Mylinda Tov (who previously held for the first three seasons) during the show's fourth. In Season 5, after she was replaced by Natasha Ward at Briefcase #19, she moved to Briefcase #20 to replace Aliké Boggan.
Smith currently resides in Los Angeles and in her spare time, she is working hard to develop a foundation to benefit abused and underprivileged children. This is a true passion of hers - to make a difference in the lives of these children. In the future, Smith would love to have a family of her own, write an autobiography and host her own late-night talk show.
Show appeared
[
]