Judges
Bobby Flay
Lorena Garcia
Curtis Stone
Steve Ells
Broadcast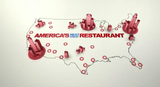 NBC & CNBC: 3/6/2011 – 5/1/2011
Packager
Magical Elves
America's Next Great Restaurant was a short-lived reality show that featured a group of would-be restaurateurs competing to show a panel of investors from the cooking and business worlds their skills. The winner would be able to open their chain of restaurants all across America (mainly in Hollywood, CA, Minneapolis, MN, and New York City, NY).
Gameplay
[
]
Contestants vied for the opportunity to see their original restaurant concept be realized with the opening of a restaurant chain in three locations: Hollywood, CA, Minneapolis, MN, and New York City, NY. Funding the restaurant concepts were four accredited investors: chefs Bobby Flay, Lorena Garcia and Curtis Stone as well as Steve Ells, founder, chairman and co-CEO of Chipotle. Flay, Stone and Garcia also served as mentors working with the competitors to further develop their ideas. Each contestant was put through rigorous business and cooking challenges to determine whether they had what it takes to become "America's Next Great Restaurant".
Trivia
[
]
The winner of the series was Jamawn Woods with a soul food concept called Soul Daddy. Prior to this, the three restaurants that opened in Hollywood, Minneapolis and New York City were closed within two months of their May 2, 2011 grand openings.
The season finale, which drew a 2.0 viewership rating, was broadcast on May 6, as viewers in the Pacific Time Zone did not learn the winner during the original May 1 broadcast, due to the breaking news of the death of Osama Bin Laden. Due to low ratings on May 13, 2011, NBC cancelled the show after the first season.
Link
[
]