Host
Montel Williams
Broadcast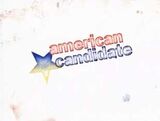 Showtime: 8/1/2004 - 10/10/2004
Packager
Actual Reality Pictures
Distributor
Showtime Networks
American Candidate was a short-lived political driven reality competition show.
Premise
[
]
Paralleling the 2004 United States presidential election, the show featured 11 contestants running as "candidates" in a mock campaign. Initially, the public could announce their "candidacy" on the show's website and garner support. Eventually, eleven contestants were chosen to appear on the show itself.
Each week, the contestants would compete in a politically themed challenge, coached by various political experts. The two contestants who fared the poorest each week would debate while one of them would be eliminated (voting the remaining contestants). For the final two episodes, the viewers would vote and eventually chose the final winner.
List of Challenges
[
]
Throughout the series, the contestants traveled in a bus all over the United States while participating in various challenges, each modeled on real activities candidates for public office might expect to undergo:
Week 1: Hometown support
Week 2: Deliver a speech on the War on Terror to residents of New Hampshire
Week 3: Press conference on jobs and the economy in Allentown, Pennsylvania
Week 4: Charlottesville, Virginia
Week 5: Focus groups in New York City
Week 6: Political ads in Washington D.C.
Week 7: Philadelphia
Week 8-9: Los Angeles
Week 10: Finale