Host
Steve Santagati
Broadcast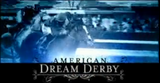 GSN: 1/10/2005 – 2/21/2005
Packager
Stone & Company Entertainment
American Dream Derby was a one month short-lived reality competition series about horse racing.
Premise
[
]
Twelve contestants at Santa Anita Park competed for a cash prize of $250,000 and a stable of eight racing thoroughbred horses.
Round 1: The Owner's Challenge
[
]
The host (Santagati) asked the contestants to do a challenge. The winner of the challenge got to sleep that night in the show's mansion rather than in the stables with the horses; the winner also got to choose some of the other contestants to join them.
Round 2: Stable Hands' Challenge
[
]
The contestants who did not make the mansion were then asked to do a stunt in the barn. The winners of each of the two challenges then got to choose one of their opponents (from their own sleeping arrangement) to face the "Guts Match". Each chosen contestant then picked a horse from the stable to represent them in a heads-up match; the contestant who chose the losing horse was eliminated.
Round 3: Guts Match
[
]
The third and final round was the Guts Match. The remaining six people did this challenge. There were four Guts Matches to determine the winner. Whoever had the most viewer's call-in votes out of all of the eight horses would be crowned champion.
Rating
[
]

Music
[
]
"You Take Me Home" by LeAnn Rimes
Trivia
[
]
LeAnn Rimes also appeared in the series finale.