Hosts
Matt Gallant (season 1)
Nick Smith (season 2)
Season 1 Judges
Ed Evangelista
Mary Lou Quinlan
Doug Hall
Peter Jones
Season 2 Judges
George Foreman
Peter Jones
Pat Croce
Sara Blakley
Broadcast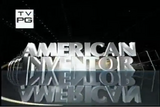 ABC: 3/16/2006 - 8/1/2007
Packagers
FremantleMedia North America
Peter Jones Television
Syco Television
American Inventor was a two-seasoned reality show that was organized as a competition between the various Inventors resulting in one overall winner.
Premise
[
]
Season 1
[
]
Twelve inventors and their products are chosen from a pool of hundreds of four judges. The 12 semifinalists are broken down into four group of three, with each episode focusing on a different group of three. Each of the twelve semi-finalists in each group receives $50,000 to improve their inventions and compete to become one of the four finalists. The finalists would then work with a dedicated prototype and design company, such as T2 Design & Prototype who would help with expert advice and manufacturing assistance. Each group is assigned a judge who would judge their products that they have invented. Each of the four judges would then choose one inventor from their group to compete in the finals, for a total of four finalists. In the show's finale the four finalists present a 30-second commercial advertisement for their product, with the home audience voting by phone for the winner. The winner receives $1,000,000 worth of business support, entrepreneurial counsel, physical resources and prize money.
Season 2
[
]
Instead of twelve finalists $50,000 checks to develop their inventions like in season one, six finalists, one from each of the auditions cities of Los Angeles, San Francisco, Chicago, New York, Tampa and Houston will each receive $50,000 and have one month to develop their inventions. The six finalists are narrowed down to three based on the judges' preference. Unlike the first season, the three finalists for voting were declared and were voted on by viewers immediately after the second-to-last show. The season finale was a single show, where the winner is declared among the finalists. In the first season, the finale was a two-episode feature with 30-second commercial one the first and the results of viewer voting on the second part. Also, the first season had four finalists instead of six narrowed down.
Link
[
]