Host
Catherine Oxenberg
Judges
Jean-Broke Smith & Paul Burrell
Broadcast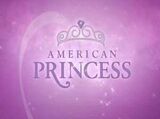 WE: 8/5/2005-10/7/2007
Packager
Granada Entertainment
American Princess was a short-lived, two-season reality television series that featured twenty American women who are average, plain, uncouth and rather ill-mannered who are taken to London, England to master the finer arts of British society.
Premise
[
]
As the women vie for the prize, they learn how to eat dinner, handle cutlery, serve tea, walk in high heels, dance and act as a proper royal should be. The prize? A royal title, a glittering Harry Winston tiara worth one million dollars and the honor of being crowned the first ever "American Princess".
International Version
[
]
An Australian version of the series called Australian Princess was hosted by Jackie O (not to be confused with the now deceased wife of the now-deceased 35th president John F. Kennedy of the same name) aired on the Network Ten for two season from 2005 until 2007. This version was also judged by Jean-Broke Smith and Paul Burrell but unlike the American version this also had a third judge by the name of Jane Luedecke.
The show itself has also aired in:
Belgium
Canada
Finland
Middle East
United Kingdom
Trivia
[
]
The show is based on George Bernard Shaw's Pygmalion and Alan Jay Lerner's My Fair Lady.
Catherine Oxenberg is best known for playing Amanda Carrington on TV's Dynasty (1981 version).
Link
[
]