Host
Dave Styles
Judges
Aloe Blacc
Elle King
Jennifer Nettles
Jason Scheff
Broadcast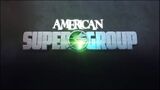 Pop (also on MTV Live and MTV Classic): 10/18/2016 – 12/6/2016
Packagers
Falconer Pictures
Josephson Entertainment
American Supergroup (also known as In Search of America's Band) is a reality music competition series that's showcasing the creation and evolution of the best new band in the country.
Premise
[
]
Guided by a panel of music experts, 25 finalists will be selected to form five groups of five members each (i.e. best guitarist, best drummer, best bass best keyboarder and best vocalist). Each contestant must have three qualities as they must each be a monster vocalist, a master musician and an accomplished songwriter. Musical genres can be, but are not limited to: Pop, Pop-Country, Traditional Country, Pop-Rock, R&B (Rhythm & Blues), Metal, Latin American and Alternative. Audiences will interact with and vote for contestants (bands) via social media platforms and an exclusive ASG app.
Trivia
[
]
The show was originally set to premiere on October 11, 2016.
Link
[
]