Hosts
John Mason Brown (1947–January 1948)
Deems Taylor (January 1948)
Ben Grauer (January 1948–1949)
Co-Host
Vivian Ferrer (1949)
Announcers
Dick Dudley
Hugh James
Broadcast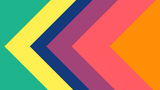 NBC Primetime: 12/8/1947 – 7/4/1949
Packagers
Wolf Productions
Americana was a short-lived history quiz show.
Premise
[
]
The slogan for this show was, "Your program about your country", because it dealt with American history and folklore. The questions were sent to the show by viewers. The most interesting question of the week won a complete Enncyclopedia Americana worth $212. Each program opened with a shot of a little red school house, and a bugler blowing to announce assembly. The questions were originally posed to a celebrity panel, which was replaced in February 1948 by a panel of five high school students (referred to as the "board of experts"). Some questions involved a panel of three actors who would perform short skits (with either one actor or more in each), after which the contestants would try to answer the questions.
In June 1949, the format changed again, with three students playing against three celebrity guests in a Q&A session on the United States of America.
Studio
[
]
NBC Studio 8G, New York City, NY