Host
Al Capp
Announcer
Joe O'Brien
Model
Shirley Cabot
Broadcast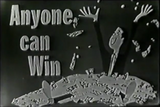 CBS Primetime: 7/14/1953 – 9/1/1953
Packager
Bernard Prockter Productions
Anyone Can Win was a short-lived Summer game show where it gave audience members the chance to split $2,000 by predicting the celebrity winner of a trivia contest.
Premise
[
]
A panel of four celebrities competed in a general quiz. Three of the celebrities were fully visible to the audience, while the fourth wore the mask of an Al Capp comic strip character named "Hairless Joe".
Before the show began, all members of the studio audience picked the celebrity they thought would answer the most questions correctly. Celebrity panelists were chosen at random to answer questions. Each player started with 10 points and gained one point for a correct answer, and lost a point for an incorrect answer. The members of the studio audience who picked the right celebrity divided $2,000.
Periodically throughout the show, telephone calls were placed to home viewers, who were given the opportunity to identify the masked panelist for a cash jackpot.
Taping Location
[
]
New York City, NY
Trivia
[
]
Host Al Capp is better known as the cartoonist for the popular comic strip Lil' Abner.
The show was seen on alternating weeks with another game show, Follow The Leader.
It is not known if Hairless Joe's real identity was ever guessed during the show's brief run, or if it was the only "character" used. A list of clues from the below episode can be seen at Anyone Can Win/Hairless Joe Clues.
YouTube Video
[
]
A full episode from July or August 1953 (Panel: Laraine Day, Jackie Cooper, Wendy Barrie, Hairless Joe; Jackpot is at $1,500)