Host
Fred Travalena
Announcer
Johnny Gilbert
Broadcast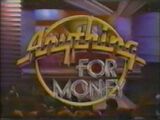 Pilot: 1983
Syndication (Daily): 9/17/1984 – 4/19/1985 (with repeats until 9/13/1985)
Packagers
Bernstein-Hovis Productions/Impact Studios
Distributor
Paramount Television
"Today on Anything for Money, (insert the situations from the episode)! Well, we'll find out, as we ask the question, will people do Anything for Money? And now, here's the star of our show, Fred Travalena!"
Anything for Money was a short-lived, hidden camera game show where contestants watch video clips of zany stunts & practical jokes featuring average Joes & Josephines who may or may not participate in them for a little money.
Gameplay
[
]
Two contestants were shown three video clips of unsuspecting people who were offered money to do an oddball task. Before each clip, the contestants secretly predicted whether or not the parties involved would do the task and for how much money, with correct predictions awarding money: the first video clip was worth $200, the second was worth $300, and the final clip was worth $500 for a maximum score of $1,000.
Both players kept the cash, but the player with the most money at the end of the game was the winner, and won a bonus prize. If the game ended in a tie, both players received the bonus prize.
End-of-Show Disclaimer
[
]
"Some participants may not be required to complete the negotiated situations."
Studio
[
]
TAV Vine Street Studios, Los Angeles, CA
British Version
[
]
An equally shorter-lived British version hosted by Andrew O'Connor aired on Sky One from 6 February (February 6), 1991 until 28 September (September 28), 1992.
Trade Ads
[
]
Trivia
[
]
This show was syndicated to stations to air as part of their daytime lineups.
150 episodes were produced.
Repeats aired on USA from September 29, 1986 through June 24, 1988.
This was the second game show whose main premise was guessing the outcome of a "hidden camera" video. The other two were All About Faces and Hold Everything!.
The show ran into some controversy due to no credit having been given to Ralph Andrews Productions, which had originally created the format.[1]
Stations
[
]
New York - WCBS
Los Angeles - KCBS
Chicago - WMAQ
Philadelphia - WCAU
San Francisco - KTZO (now KOFY)
Washington, D.C. - WJLA
Tampa Bay - WTVT
Seattle - KING
Miami - WPLG
Denver - KCNC
Sacramento - KOVR
Portland, OR - KGW
Hartford - WTNH
Norfolk - WTKR
Oklahoma City - KOCO
New Orleans - WVUE
Tulsa - KJRH
Monterey - KNTV (now in San Francisco)
Atlanta - WATL
Phoenix - KTSP
Omaha - KETV
Rockford - WQRF
Green Bay - WLRE (now WGBA)
Madison - WISC
Wausau - WAOW
Milwaukee - WISN
Minneapolis - KSTP
Dayton - WRGT
Cincinnati - WXIX
Anchorage, AK - KTVA
Detroit - WJBK
Grand Rapids - WOTV
Des Moines - KCCI
Mobile, AL - WKRG
Montgomery - WAKA
Wichita - KAKE
Louisville - WAVE
Nashville - WTVF
Greensboro - WGHP
Richmond - WXEX (now WRIC)
Asheville, NC - WLOS
St. Louis - KPLR
Kansas City - KSHB
Reno - KTVN
Little Rock - KATV
Tucson - KVOA
Boston - WSBK
Providence - WLNE
Wilkes-Barre - WBRE
Buffalo - WGRZ
Raleigh - WPTF (now WRDC)
Dothan, AL - WDHN
Fargo - WDAY
Grand Forks, ND - WDAZ
Albany - WNYT
Wilmington - WJKA (now WSFX)
West Palm Beach - WPTV
Rochester, NY - WHEC
Wichita Falls - KSWO
Flint - WSMH
Springfield, MO - KMTC
San Antonio - KENS
Indianapolis - WTTV
Roanoke - WSET
Shreveport, LA - KSLA
Lafayette, LA - KADN
Honolulu - KHON
Charleston, SC - WCSC
Houston - KHTV
References
[
]
Links
[
]
Rules for Anything for Money
Article about the British version at UKGameShows

YouTube Videos
[
]
A full episode from September 18, 1984 (Jan vs. Kirk): Part 1, Part 2, Part 3
A full episode from 1985 (Olga vs. Louis)