Hosts
Wil Wheaton
Lee Reherman
Co-Hosts
Travis Oates
Michaek Louden
Kevin Pereira
Broadcast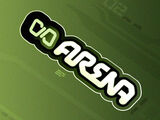 G4/G4TechTv: 5/1/02-1/29/05
Packager
G4 Media
Arena was a series that's devoted entirely to teams competing against one another via multiplayer video games.
Gameplay
[
]
The program's format featured teams taking on each other in the multiplayer video game of the time in the form of a LAN party. Many episodes of the series revolved around a continuing tournament format.
Some video games overlap episodes, such as Unreal Tournament 2004 and Call of Duty. Teams are also given a chance to talk about themselves and explain the origin of their team name.
Trivia
[
]
Team Zombie won the Tournament of Champions in 2004 to become the Ultimate Arena Champions. Team Kaizen won the Tournament of Champions in 2005 to become the Ultimate Arena Champions.
The show was originally hosted by Wil Wheaton and Travis Oates, but both hosts left due to conflicts with the program's producer, Jim Downs, of which many were made public by Wheaton in a Slashdot posting. They were replaced by Lee Reherman and Michael Louden (for which later Louden was replaced by Pereira).
The first two seasons were filmed in studio 2. In 2004, for the show's third and final season, filming moved to studio 3, which was the largest studio in G4's old headquaters. When word of the Tech TV buyout became public, and the show was going to be cancelled as a result, the series banked several episodes, and then scrapped the set in July 2004 t make way for X-Play, The Screen Savers, and Unscrewed With Martin Sargent, three former TechTV properties.
original host Wil Wheaton is best known for playing Wesley Crusher in the formerly popular 1987-1994 tv series Star Trek: The Next Generation.
Host Lee Reherman is best known for playing one of the "Gladiators" named Hawk in the original 1989-1996 version of American Gladiators.
Co-host Kevin Pereira is best known for hosting G4's Attack of the Show! (replacement of TechTV's The Screen Savers) and former host of the syndicated game show Let's Ask America.
Link
[
]