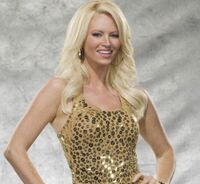 Aubrie Lemon (born October 5, 1979) was an only child who grew up on a farm in Flager Beach, Florida.
Lemon and her family would travel around Florida on the weekends and she would compete on the Junior Tennis Circuit and 5K races. Lemon filled her spare time working as a Daytona Beach lifeguard, teaching piano lessons, and playing her harp at weddings and art festivals.
Lemon went to college on an academic, cross country, and music scholarship (for playing the harp). Hollywood continued to call her name and she soon made the transition to the West Coast where overnight modeling went from a fun hobby to a promising career.
While modeling and acting are foremost for her, Lemon makes time for things that are closest to her heart. Lemon supports the L.A. Society for the Prevention of Cruelty to Animals, the National Geographic Society, and is qualified for Mensa membership.
Lemon working with DOND has led to many appearances on shows including: Jimmy Kimmel Live, Last Call with Carson Daly, Oprah, The Big Idea with Donnie Deutsch, Medium and Last Comic Standing. Lemon's exposure on television has led to many guest appearances and co-starring roles both in movies and television including: The Island, Transformers, CSI: NY, Shark and Entourage. Lemon still continues to model full time by doing advertisements and campaigns for major brands and companies.
Lemon is truly a Renaissance woman!
Shows appeared
[
]