Host
Jack Gregson
Assistant
Charlotte Randall (credited as Rebel Randall on-air)
Announcers
Kenny Williams
Glenn Riggs
Broadcast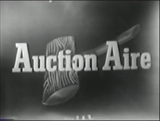 ABC Primetime: 9/30/1949 – 6/23/1950
Packager
Masterson-Reddy-Nelson Productions
Auction-Aire was a short-lived game show where audience members bid labels from the program's sponsor (The Libby Co.) to pay for merchandise.
Gameplay
[
]
Members of the studio and home audience bid for merchandise by using labels from Libby's food products instead of cash (i.e., a $250 freezer for 88 labels). The home viewers would call the number set by their local station, which was displayed on screen near the beginning of the show. They would call the station to state their bids, and the station relayed the bids to the studio. The high bid was always shown on the "Libby Label Meter." When Gregson said "SOLD!", Gregson would ask the telephone girls for their high bid, one by one, and if the highest bidder was a viewer, they received the prize themselves.
After the show, an agent would visit the viewers who bid the highest on certain prizes, and would claim their labels. If they had enough, he would arrange for the prize to be delivered to their home. If not, the prize went to the person who bid the second-highest, and so on and so forth.
Some auctions only allowed one type of audience to take part, not both.
Mystery Chant
[
]
At certain points in the show, viewers would be called and have a chance to win a new car. The viewer would hear a prerecording of Gregson's voice announcing a series of numbers at a very fast rate. If they could correctly guess the exact total of all the numbers, they won the car. If not, they won a piece of the sponsor's merchandise as a consolation prize.
Trivia
[
]
When the show debuted, it was only seen on five stations, including WJZ in New York City, NY. Three more (WENR in Chicago, IL, WTVN in Columbus, OH, and WXYZ in Detroit, MI) were added in late January or early February 1950.
Originally broadcast live from New York City, the show began transmitting from Chicago, IL on February 17, 1950
YouTube Link
[
]