Host
Michael Mixon
Judges
Tim Love
Jess Pryles
Scott Roberts
Homer Robertson
Ernest Servantes
Broadcast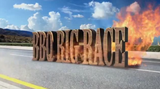 Food Network: May 13, 2017
Packager
Critical Content
BBQ Rig Race was a special where it gives four barbecue teams the chance to win $10,000 as they take their custom BBQ rigs on the road and compete in a series of cook-offs.
Premise
[
]
The special features four teams of top pit masters competing in a series of elimination cook-offs ending with the final two facing off for ultimate bragging rights and a $10,000 prize.
Trivia
[
]
Michael Mixon is the son of Myron Mixon.
At the time, this special aired at 2pm.
Link
[
]