Hosts
Jack Paar (1953)
Bill Cullen (May–July 1954)
Jimmy Nelson (July–August 1954)
Announcers
Olin Tice (1953)
Bill McCord (1954)
Broadcast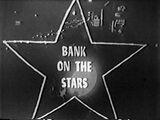 CBS Primetime: 6/20/1953 – 8/8/1953
NBC Primetime: 5/15/1954 – 8/21/1954
Packager
Masterson-Reddy-Nelson Productions
"Yes it's BANK ON THE STARS! Where tonight you'll see (insert movie titles and stars)! And here in person is our bright young comedy star who just flew in from Hollywood, Bill Cullen!"
Bank on the Stars was a memory game show about movies.
Gameplay
[
]
Three teams (one at a time) competed in a game of memory, observation & knowledge of currently playing movies.
The team in control was shown a clip of a currently playing film. They were then asked up to three questions about what they saw. Each teammate who answered correctly earned the couple $50, so there was a possibility of winning $100 on each question, for a possible total of $300. Should any question be missed entirely, play stopped there, and if it happened on the first question, then as a consolation prize, both contestants on the team in control dug their hands (one from each player) into a barrel full of silver dollars.
NOTE: At some point in the series, all values were halved; and the team always continued right or wrong.
Bank Night Bonus
[
]
The team with the most money at the end of the show won the right to play the Bank Night Bonus round which was a one question round. The catch was that the movie clip was listened to, not seen, by the winning team. Answering that question correctly won an additional $500; this was later changed to a jackpot that grew by $250 each week until won.
Taping Location
[
]
New York City, NY
Links
[
]
Bank on the Stars at Game Show Utopia
Bank on the Stars at The Bill Cullen Homepage
YouTube Videos
[
]
A full episode from June 19, 1954: