Hosts
Tim Vine (one pilot)
Ron Pearson (other pilot)
Broadcast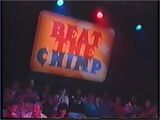 Unsold Pilots: 6?/1998
VINE PILOT SPIEL:
"He's here and his probation officer is only giving him a half an hour! Please give it up for Mr. Tim Vine!"
PEARSON PILOT SPIEL:
"It's Ron Pearson!"
Beat the Chimp was an unsold game show which had several contestants competing for prizes against a chimp.
Trivia
[
]
One question in Round 1 of the Vine pilot is about June 15, 1998 in the past tense, suggesting it was taped within a few days of that.
Clips of the Pearson pilot appeared in TV's Finest Failures, a 2000 BBC special (aired in October 2001) looking at unsold pilots primarily from the UK and US. Strangely, the host of the special mentions the show stars "one of our dumb friends...oh and a chimpanzee" even though Pearson was born and raised in America. This and the fact that nearly all the footage is never shown on the on-set screen (the one bit of Pearson that does appear on it has neither the special's audience nor host in frame) would seem to suggest that the studio audience had actually seen clips of the Vine pilot.
Inventor
[
]
Based on Fluke, a short-lived 1997 British game also hosted by Tim Vine, which did not have a chimp involved.
YouTube Videos
[
]
Vine pilot:
First 90 seconds
Full Round 1