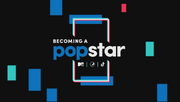 Becoming a Popstar is a reality music competition series that showcase eight up-and-coming musical artists that were originally discovered by TikTok where fans get to decide which one of them becomes the next pop sensation.
Judges
[
]
Joe Jonas
Becky G.
Sean Bankhead
Broadcast
[
]
MTV: 3/24/2022-present
Packagers
[
]
Jesse Collins Entertainment
Velocity
Premise
[
]
Each week, contestants create original themed songs and accompanying one-minute music videos on air, which will first be available on TikTok. Inspired by the collaborative nature of the TikTok community, episodes have themes like "The Duets", where contestants are paired to create an original song and visual performance. Contestants are critiqued by the celebrity judges (i.e. Jonas, Becky G. & Bankhead) with eliminations occurring each week until two final artists are chosen to battle it out in a finale special determining who ultimately has what it takes to become a popstar. After each episode, fans at home can home by searching #MTVPopstar on TikTok for their favorite artist videos of the week on a dedicated voting page. Voting opens immediately following the episode and stays open before the next episode premieres. The winning artist each week scores a cash prize from Pepsi on top of the eventual grand prize. Winners of the previous week are announced during a live pre-show on @MTV on TikTok. After five episode, only one lucky winner walks away as a popstar with their very own Pepsi commercial set to premiere on television during the Video Music Awards (or the VMAs) on MTV.
Link
[
]