Hosts
Chris Carlin (2008-2010)
Julie Alexandria (2008-2009)
Alexi Panos (2009-2010)
Amber Wilson (2010-2012)
Dan Schachner (2010-2012)
Don Jamieson (2012-present)
Mayleen Ramey (2012-present)
Broadcast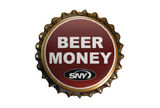 SportsNet New York: 2008-?
A game show for New York City. Hosts Chris Carlin and Julie Alexandria (later Panos, then Amber Wilson and Dan Scachner, followed by current hosts Don Jamieson and Mayleen Ramey) go around New York asking questions pertaining to New York Sports. There are three rounds: $10, $20, and $100. The player can walk away with their earned money at any time, but if they keep going and get a question wrong, the money must be returned. 
Other segments include: 
Beer Run: In this segment the host gives the contestant a question with multiple answers. The contestant has 30 seconds to give as many answers as possible, earning $10 for each correct answer. 
Magic Number: The host gives the contestant a number. The contestant is then asked a series of numeric questions and have to guess if the answer is above or below the magic number, earning $10 for each correct answer. 
Beers Batted In: The host gets four contestants. One of them gets a question, if they get it right they go to first base. This repeats for the next two contestants. If all four contestants can correctly answer their questions, it is a grand slam, like in baseball, and they divide $160. 
Killer Tracks
Open - "Force of Habit" by Rik Carter
Community content is available under
CC-BY-SA
unless otherwise noted.