Broadcast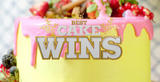 Byutv: 6/19/2018-7/14/2020
Packagers
Blue Ant Media
Architect Films
Best Cake Wins is a fun and friendly reality baking competition series that sees two cake-makers battle it out in an attempt to make one child's most awesome birthday cake imaginable a reality.
Premise
Two expert bakers are tested as they create intricate birthday cakes for the most demanding judges of them all: young kids with wild imaginations!
Trivia
This show has also aired on Makeful in Canada and fyi tv18 in India.
Link