Hosts
Nick Slatkin & Tika Sumpter
Broadcast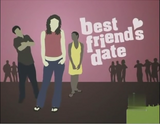 The N: 12/3/2004-2/11/2005
Packager
de Oliveira Entertainment Group (DEG)
Best Friend's Date was a short-lived reality dating series for teenagers where it allows teens to eavesdrop on blind dates and see what to do -- and what not to do -- with their own romantic travails.
Each episode will feature a best friend selecting a date for their buddy from a pool of four candidates. After putting each prospective date through rounds of interviews, challenges and various hoops, the choice is made. But that's just the start, after best friends introduce their choices to their friend and their parents, the real test begins. The young provisional couple must cope with first date jitters (sometimes first-ever date jitters) plus other surprise curveballs the show will throw at the duo -- like bowling while handcuffed together or singing karaoke on street corners. Every date ends with the inevitable moment of truth where each dater must decide whether it's a "Yay!" or "No Way!" are we in for a budding romance, a mutual "no thanks" or heartbreaking rejection?
Community content is available under
CC-BY-SA
unless otherwise noted.