Host
Tom Colicchio
Culinary Experts
Jeffrey Zurofsky & Maggie Nemser
Broadcast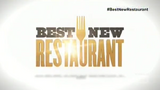 Bravo: 1/21/2015 – 4/1/2015
Packager
One Potato, Two Potato
Best New Restaurant was a reality competition series and an American adaptation of the British format called Ramsay's Best Restaurant where acclaimed chef and entrepreneur Tom Colicchio would dine across the USA, taking a look at the food world from a fresh direction: the restaurant.
Premise
[
]
The majority of the series took place on location in the restaurants themselves to highlight each establishment's unique point of view. In the end, only one would be crowned 'Best New Restaurant' and win an editorial feature in Bon Appetit, a feature spot in America's number one global food festival and Vegas Uncork'd by Bon Appetit 2014 and $100,000.
British Version
[
]
The original British version of the show under the name Ramsay's Best Restaurant aired on Channel 4 twice. Originally as part of Ramsay's other reality show called The F Word from 31 October (October 31) 2009 until 7 January (January 7) 2010 then as a regular separated series from 14 September (September 14) until 9 November (November 9) 2010.
Trivia
[
]
Gordon Ramsay is one of the executive producers of the show.
Inventor
[
]
Based on the British show Ramsay's Best Restaurant.
Rating
[
]

Links
[
]
Official Website
Description of the original British version (courtesy of ukgameshows.com)