Host
Melissa Peterman
Broadcast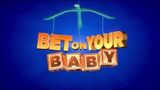 ABC: 4/13/2013 – 7/19/2014
Packagers
5x5 Media
Electus
Bet On Your Baby was a game show where parents wagered on their children based on how strongly they thought their kids would perform mindless tasks.
Gameplay
Parents attempted to predict their toddler's next move in an effort to win money for their child's future education.
Main Game
Wagering Round
Five sets of parents (four in Season 2), along with their infant/toddler child, each decided whether their child could either complete a particular task, or how much of a task could they complete. All tasks took place inside the "Babydome", a special play area. A successful decision won $5,000 (or lesser amounts depending on the task).
Qualifier
Season 1
The parents who were chosen for the first five games were brought on stage with buzzers while their bettors were sent into the Babydome to get their babies to remove as many stuffed animals as possible to reveal a rebus. The first parent to solve it advanced to the endgame.
Season 2 (Baby Talk)
The parents would watch a video of Peterman describing a word to the babies. The first couple to buzz in with the word advanced to the endgame. If a couple gave a wrong answer, the couple couldn't answer until another couple buzzed in. A rubber duck sound would censor out the word or any other word that could reveal the answer.
College Round
The winning parents would have up to five turns to break the piggy banks, each of which had one of the following dollar amount inside to be added to their child's college fund: $500, $1,000, $2,500, $5,000, $7,500, $10,000, $15,000, $20,000, $25,000 & $50,000. On each turn, they could keep the amount just found or give it back & try again.
---
Regardless of the outcome, all families received a $1,000 Walmart Gift Card & a year's supply of Luvs Super Absorbent Leakguards diapers.
International Versions
Countries that have aired their versions of Bet on Your Baby includes:
Argentina
China
Columbia
Mexico
Philippines
South Korea
Turkey
Ukraine
Vietnam
Rating
Trivia
The original premiere date for this show was April 6, 2013.
Link