Host
Mac Lethal
Co-Host
Amber Diamond
Broadcast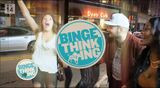 MTV2: 4/1/2016-5/20/2016
Packager
DiGa Vision
Binge Thinking is the ultimate bar crawl game show on TV that will finally discover the truth behind the question: Think you're smarter after a few drinks?
Host Mac Lethal along with co-host Amber Diamond visit a different city's party spot each week and whip up and impropmtu game show with unsuspecting (and sometimes a bit "lubricated") contestants. The games cover everything in pop culture from trivia, to physical stunts, to prop-based gameplay all aimed at testing contestants' ability to think while they drink.
The title of the show is a spoof of the term called "Binge Drinking".