Host
Greg-Alan Williams 2008-2013
Thomas Miles as "Nephew Tommy" 2014-2016, 2020-present
Broadcast
Chicago Area:
WMAQ NBC 5 2008-2009
WLS ABC 7 2010-2013
National:
Syndication 2008-2013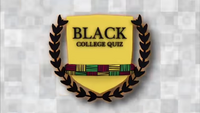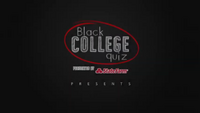 Aspire: 1/25/2014 – 11/5/2016
Up: 1/25/2014 – 11/29/2014
Bounce: 3/1/2014 – 11/5/2016, 2/8/2020 – present
Packager
Central City Productions
A syndicated national tournament of the Chicago area quiz bowl Know Your Heritage. This is a four part annual tournament for historically black colleges and universities with 8 colleges competing for a $10,000 scholarship, runners up receive a $5,000 scholarship. African American contestants compete in this show.
For the 2012 season, the show is now taped in the District of Columbia, and now has four solo players facing off against each other instead of two teams of four.
Starting in 2014, the program returned to taping in Chicago and the number of players was reduced to only three. It would be reduced to only two players by 2016.
After more than three years of reruns, a revival premiered exclusively on Bounce in 2020, using the same format as the 2016 season.
Music
[
]
2008 - Zernul L. Shackelford
2014-2015
Main - "Rocking Out" by De Wolfe Music
2014-2016, 2020-present
Background Music - "In The Basement" by De Wolfe Music
Alt. Background Music - "Big It Up" by De Wolfe Music
2016
Main - "Halftime (Stand Up and Get Crunk!)" by the Ying Yang Twins
Alt. Main - Halftime (Stand Up and Get Crunk!) Feat. Homebwoi by the Ying Yang Twins

Inventor
[
]
Based on Know Your Heritage by Omar McClinton
Rating
[
]

Spin-Offs
[
]
Link
[
]
Black College Quiz MySpace Profile
YouTube Video
[
]