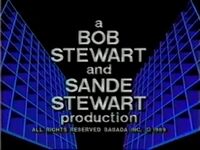 Bob Stewart-Sande Stewart Productions was an American major game show production company formed by Bob Stewart in 1964 originally based in New York City.
History
[
]
Bob Stewart founded Bob Stewart Productions in 1964 after leaving Goodson-Todman Productions. His sons Barry, Sande, and David later joined in 1973 and formed Basada, Inc.; Sande was made creative consultant. Five years later, the company moved from New York to Los Angeles (though The $10,000 Pyramid at one time was taped at CBS Television City). In 1985, Bob Stewart formed another production company called Bob Stewart Cable, Inc., for game show programs produced for cable but only two game shows were produced under that name, which were Jackpot & Chain Reaction; both were revivals of originals. Bob Stewart semi-retired in 1987 and Sande took control. In 1990, it was renamed to Stewart Television and later in October 1990, Stewart Tele-Enterprises was established as a subsidiary of Stewart Television. After the cancellation of The $100,000 Pyramid hosted by John Davidson, Bob Stewart fully retired in 1992, and sold Stewart Television (including Stewart Tele) to Sony in 1994. Sande in the meantime went solo and produced game shows under his company Sande Stewart Television. As of today, Stewart Television, Stewart Tele and Basada, Inc. are active in-name-only units of Sony Pictures Television.
Notable Employees
[
]
Sande Stewart - self-explanatory
Anne Marie Schmitt - Bob's wife & producer for many game shows. She was also the executive producer for Double Talk.
Erin Perry - Daughter of game show host Jim Perry
Francine Bergman
David Michaels
Mike Gargiulo - He was the first director for the company while it was New York based. He was also responsible for directing the successful PBS mathematical TV show Square One TV.
Bruce Burmester - He was the second director for the company (replacing Mike Gargiulo) after it moved to Los Angeles. He also produced some game shows. Today he's the director for award shows and also works on Dancing with the Stars.
Hosts
[
]
Announcers
[
]
Alan Kalter
Don Pardo
Wayne Howell
Shows Produced
[
]
Created by Bob Stewart for Goodson-Todman
[
]
These are the titles created by Stewart for Goodson-Todman that are now owned by Fremantle
Created by Bob Stewart for Bob Stewart Productions/Stewart Tele Enterprises
[
]
These are the titles created by Stewart for his company that are now owned by Sony Pictures Television
Unsold pilots
[
]
Titles with distribution rights held by CBS Television Distribution
[
]
The $25,000 Pyramid (1974–1979 evening version hosted by Bill Cullen) (worldwide, perpetual, syndicated)
The Love Experts (1978–1979) (worldwide [excluding the United States] perpetual, free television, and United States, perpetual, syndication)
Titles with distribution rights held by NBC/Universal
[
]
John Davidson's The $100,000 Pyramid (1991) (distribution rights only)
Other properties
[
]
The $50,000 Pyramid (1981) (distributed by CPM, Inc.)
In-Credit Text
[
]
Bob Stewart-Sande Stewart Productions never had an official logo; Just an in-credit text. Near the end of its life, the name was arranged like a pyramid.
Pyramid
[
]
70s & Early 80s
[
]
1982-1991
[
]
Celebrities
[
]
Most of the time the credit would be over a celebrity or a contestant during their closing credit chat.
Go
[
]
Double Talk
[
]
Jackpot
[
]
Chain Reaction
[
]
Other Shows
[
]
Pilots
[
]