List of Drill Instructors (DI)
Leo McSweeny (Former United States Marine Corps Sergeant)
Tony Rosenbum (Marine Corps Chief Warrant Officer)
Dave Francisco (Marine Corps Sergeant Major)
Annette Taylor (Marine Corps Gunnery Sergeant)
Broadcast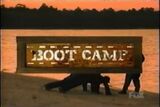 FOX: 3/28/2001 - 5/23/2001
Packagers
Granada Entertainment
LMNO Productions
Boot Camp was a short-lived, primetime reality competition show where 16 civilian contestants (or recruits) tried to surrender every aspect of their everyday daily lives and to participate in real-life military training.
The game, as other reality TV shows, was based on participation and…more elimination. The four real-life Drill Instructors (DI's) set the pace of the recruits 24 hours a day. The recruits were put through a multitude of obstacle courses and other specialized training activities, aimed at building confidence and facing their fears. During the 9 episodes, the contestants took part in a mission that tested their training and ultimately revealed "the weakest link" in the squad. Throughout each episode the contestants (recruits) faced an evaluation by their peers. The results of the evaluation determined who stays and goes. The winner would receive $500,000.

The show drew a lawsuit from Mark Burnett due to similarities to its long-running reality competition series Survivor.
The one and only sole winner of the series was Jen Whitlow.
Celebrity Boot Camp - an all-star spinoff special that has also aired on FOX in 2002.
Community content is available under
CC-BY-SA
unless otherwise noted.