Host
Dani Behr
Broadcast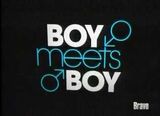 Bravo: 7/29/2003 - 9/2/2003
Packager
Evolution Film & Tape
Boy Meets Boy was a short-lived reality show in which a gay man met and chose a mate from a group of 15 potential male suitors. The show featured a twist that the "leading man" did not know that the mix of suitors included both gay and heterosexual men.
Gameplay
[
]
The show featured a gay man named James Getzlaff selecting another man to date from among a group of 15 potential suitors, known as "mates". Helping him choose was his best friend Andra Stasko. The "controversial" twist was that some of the housemates were gay, while others were straight. James was not told of this fact until nearly the end of the series' run, and the gay mates were never informed. If James' final choice from among the mates was gay, James and the mate would win a cash prize and a trip for two to New Zealand provided by Alyson Adventures of Key West, Florida, which specializes in gay and lesbian small group tours throughout the world. If James chose a straight mate, James would win nothing and the mate would win $25,000. The producers managed to keep a mixture of gay and straight men in the house despite the eliminations by putting the men into "groups" that prevented the contestant from eliminating all of the gay men or all of the straight men. At the end of each episode, the sexual orientation of each eliminated mate was revealed to viewers.
Merchandise
[
]
A DVD was released with all six episodes on it. Special features include additional interviews and footage with behind the scenes featurettes, casting reels, performances by Miss Coco Peru, the original unaired opening sequence, cast biographies, and a "Where Are They Now?" segment with updates on some of the participants.
Rating
[
]

Similar Shows
[
]
Playing it Straight - another short lived show but on FOX
Seriously, Dude, I'm Gay - am unaired pilot on FOX
Gay, Straight or Taken? - another short lived show but on Lifetime TV
Finding Prince Charming - A series currently airing on Logo since 2016