Hosts
Jack Lescoulie and Fred Davis
Announcer
Bill Wendell
Broadcast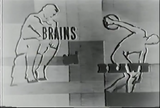 NBC Primetime: 9/13/1958 – 12/27/1958
Packager
Ile de France International Productions
This version of Brains and Brawn was different from the 1993 version.
Gamplay
[
]
There were two teams comprising two contestants each: two professional experts formed the "Brain" portion (hosted by Davis) and two top sports athletes formed the "Brawn" portion (hosted by Lescoulie). These players competed in a series tests of mental and physical skills for cash prizes of up to $30,000.
The game was played in up to five or six rounds (depending on the contest). Each round was divided into two parts, with each team competing for half of the available prize money. The brains competed in the quiz segment where the questions were centered around their area of expertise, while the brawns competed against each other in an athletic contest in their own sport.
Round Values
[
]
The money awarded in each round had at least two different structures. At one point in the series, it was as follows:
$2,000
$4,000
$6,000
$8,000
$10,000
At another point in the series, the ladder was as follows:
$2,000
$3,000
$4,000
$5,000
$7,000
$9,000
At the end of the game (which occasionally lasted for more than one broadcast), the team with the most money were the winners and kept it. Each member of the losing team received a Lark Studebaker station wagon as a consolation prize.
Trivia
[
]
The show's complex structure puzzled audiences and sponsors alike, resulting in the series being sustained by the network and its quick demise.
Taping Locations
[
]
NBC Studio 8H, New York City New York (Brains portions)
Various locations (Brawn portions)
NOTE: Later contests had the Brains portion played at the exact same location as the Brawn portion.
Inventor
[
]
Based on a French show by Pierre Bellemare.
Press Photos
[
]
YouTube Link
[
]
A full episode from October 4, 1958 (Sally Kirkland & Willie Mays vs. James Laver & Jackie Jensen)