Hosts
George F. Putnam (Daytime, 1949–1951; Nighttime, 1949–1951)
Don Russell (Daytime, 1951)
Bill Slater (Nighttime, 1951–1953)
Conrad Nagel (1953–1954)
Announcer
Radcliff Hall
Broadcast (DuMont)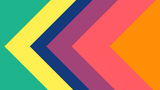 Daytime: 7/4/1949 – 5/4/1951
Primetime: 7/20/1949 – 7/15/1954
Packager
DuMont Television
Broadway To Hollywood Headline Clues was a mixture of news, gossip, celebrity interviews, and a home viewer quiz all rolled in one.
The program opened with a summary of the day's news. Early in the show's run, the quiz element was as follows: the host would call viewers at home and offer prizes for the correct answers to news-related questions or identification of photos shown onscreen. There were also celebrity guests and new talent discoveries.
By 1951, the quiz segment was dropped and the show became much more of a news and feature show.
New York City, NY
This combination quiz show made its debut as Headline Clues. Only the nighttime version used the longer title, adopting it on October 21, 1949.
From 1949 to 1951, the quiz element was featured.
The original nighttime host, George F. Putnam, would later achieve greater recognition as a newscaster in the Los Angeles area during the 1950s and 1960s.
Community content is available under
CC-BY-SA
unless otherwise noted.