Host
Kellan Lutz
Co-Host
Godfrey
Broadcast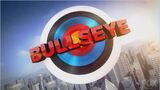 FOX: 5/27/2015 - 7/15/2015
Packagers
Endemol Shine North America
Lock and Key Productions
This article is about the new reality show. For the old Barry & Enright game show, see Bullseye (1).
Bullseye is a reality challenge series where four men and four women try to test their bodies and brains in three ultimate challenges that ask nothing more than for them to hit the "Bullseye".
Premise
[
]
Bullseye's fierce "weekend warriors" will participate in three levels of extraordinary challenges, all of which involve using their bodies like human darts to hit targets on land, sea and air. As the rounds advance in this fun-for-the-whole-family summer series, only those with the sharpest aim move forward. The competitors' ability to defy gravity and the laws of physics while maintaining their focus could mean the difference between going home empty-handed or up to $50,000 richer.
Rating
[
]

Links
[
]
Official Website
Bullseye - Formats - Endemol Shine Distribution