Host
Tony Rock
Announcer/Bar Girl
Tracy Pendergast
Panelists
Karen Bergreen
Jessica Kirson
Modi
K.J.
Broadcast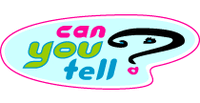 Oh! Oxygen (Daily): 6/16/2003 – 2004
Can You Tell? was a celebrity comedy panel game show where a panel of comedians interview two individuals, attempting to guess which of them has one of two personal traits (i.e. occupation, sexual orientation, race, etc.).
Premise
[
]
On this show, contestants - either solo or combinations thereof - were introduced to three panelists, who had to determine whether the contestants were "straight or gay?", "black or white" (obviously, blindfolds occasionally came into play), "mothers or nuns", and so fourth. Depending on whim, either the panelists would have 45 seconds to question the contestants directly, or the host would ask questions which could or couldn't help (in the third situation, for example, he asked trivia questions about The Brady Bunch and The Flying Nun). Regardless of how the panel voted, each participating contestant received $500.
Links
[
]
Official Website
Tony Rock to Host Game Show on Oxygen
Bunher.com reviews Can You Tell?