Hosts
Radio:
Peter Donald
Television:
Ward Wilson (1950–1951)
Wink Martindale (1970)
Panel
Harry Hershfield
Edward Ford
Joe Laurie Jr.
Announcers (Radio)
Dennis James
Ron Rawson
Charles Stark
Broadcast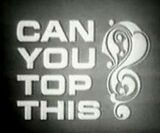 WOR Radio (Weekly): 12/9/1940 – 9/19/1945
NBC Radio (Weekly): 10/3/1942 – 9/25/1948, 4/2/1954 – 7/9/1954
Mutual Radio (Weekly): 9/29/1948 – 5/24/1950
ABC Radio (Weekly): 9/23/1950 – 6/26/1951
ABC Primetime: 10/3/1950 – 3/26/1951
NBC Radio (Daily): 10/5/1953 – 3/26/1954
Syndication (Daily): 1/5/1970 – 10/2/1970 (with repeats until 1/1/1971)
Packager
Four Star Television (1970)
Can You Top This? was a variety panel game show that had everything about talent and jokes.
Gameplay
[
]
Listeners contributed approximately 3,000 jokes a week. Host Donald told the best of these jokes, each one centered around a different topic, while a "laugh meter" took note of the audience reaction. The "Knights of the Clown Table" - Ford, Hershfield and Joe Laurie, Jr. attempted to top listeners with their own jokes, which sometimes presented an extra challenge as their jokes had to be pertinent to the topic.
Any submission used on the program received $5. Each time a panelist failed to top Peter Donald's joke (as registered on the laugh meter which went as high as 1000), an additional $2 was added, so a listener could potentially win as much as $11, though on many occasions Donald's jokes would score perfect 1000s which would guarantee the top prize to the submitter regardless of how the rest of the panel fared. Further, listeners were also given phonograph recordings of Peter Donald telling their jokes on the air. The panelists claimed that together they knew over 15,000 jokes. Later, each joke earned $10 plus another $5 for each failure for maximum winnings of $25.
On the 1970 version, each joke read on the show awarded its author $25, plus another $25 for each failed panelist. If the entire panel failed, the joke's author received a bonus prize.
Trivia
[
]
This show, along with Stop Me If You've Heard This One, would later serve as inspiration for a British panel game called Joker's Wild (not to be confused with the Barry & Enright game show of the same name).
Production Locations
[
]
New York City, NY (1940–1954)
CBS Television City, Los Angeles, CA (1970)
Rating
[
]

Trade Ads
[
]
Links
[
]
Josh Rebich's Can You Top This? Rule Sheet
YouTube Videos
[
]
A full episode taped May 18, 1970