Host
Kristin Chenoweth
Judges
Aarti Sequeira
Nacho Aguirre
Broadcast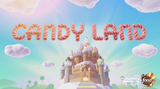 Food Network: 11/15/2020-present
Packager
Super Delicious
Candy Land (loosely based on the classic children's board game of the same name) is a reality competition series where five teams made up professional cake and sugar artists are being challenged to create heavenly confectionery showpieces, all the while being thrown curveballs every step of the way by Lord Licorice that puts the teams' skills to the ultimate test.
Premise
[
]
Each episode features the teams stepping into one of the eye-popping lands come to life, including giant candy canes in the Peppermint Forest, life-size gumdrops at the Gumdrop Mountains, a real life gingerbread house at Chocolate Mountain, enormous and luscious lollipops in the Lollipop Woods and lemons growing right off the vines in the Lemon Lime Springs. The players must forage for flavors and unique ingredients within each land to use for their sugar masterpieces before presenting to judges Aguirre and Sequeira who determine which teams advance down the board game path based on creativity, technical execution and how well the candies on the land were incorporated. The first team to make it to King Kandy's Castle wins the game and earns the grand prize of $25,000.
In the middle of each episode, host Chenoweth will present a "request from King Kandy" to create a smaller dessert for tasting by the judges. The loser of this challenge must send one member of the team to the Licorice Lagoon to complete another usually physical challenge.
The week's winning team is judged by the main creation; likewise, each week eliminates the last-ranking team. The winners usually get some kind of advantage for the next episode.
Trivia
[
]
This is the first reality competition series that is based on a classic board game.
Link
[
]