Host
Luke Tipple
Broadcast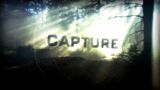 The CW: 7/30/2013 - 9/25/2013
Packagers
Blackbird Television
Renegade 83 Entertainment
Warner Horizon Television
Capture was a short-lived reality wilderness-themed competition series in which teams pursue each other and compete for limited resources, with the final reward being a cash prize of $250,000.
Gameplay
[
]
Twelve teams of two enter "The Arena", a fenced-in enclosure in the middle of the wild, where they must live for one month and compete against each other for scarce resources. With $250,000 on the line, it's a winner-talk-all battle in which teams must hunt each other down to survive.
Rating
[
]

Trivia
[
]
The show was originally titled The Hunt.
The original premiere for the series was July 31, 2013. but it was moved back to July 30, 2013 in order to be paired up with the Aisha Tyler revival of Whose Line is it Anyway?.
Press Photo
[
]
Link
[
]