Host
Craig Robinson
Broadcast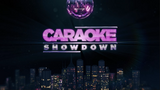 Spike: 1/12/2017 – 3/16/2017
Packager
CORE Media Group
Caraoke Showdown is a music-themed, karaoke-styled game show where this party-on-wheels has the ultimate emcee in host, actor and comedian Craig Robinson who literally drives the fun-filled ride that gives unsuspecting passengers the trip of their lives.
Premise
[
]
The series takes groups of passengers on a musical journey to win money by competing in a variety of karaoke-style challenges. Throughout various rounds of game play, contestants compete for cash by belting out their favorite tunes, finishing lyrics (ala Don't Forget the Lyrics!, The Singing Bee & Best Time Ever with Neil Patrick Harris) or acting out songs. Also adding to the "anything can happen" atmosphere of "Caraoke Showdown", special guests hop in from time to time and help our singers win big. This musical trip isn't just confined to inside the recruiting pedestrians (and total strangers) in a variety of music-related challenges. Each episode ends when the two teams with the most money 'crash' an event at surprise locations. The finalists then must perform karaoke in front of a crowd that ultimately gets to determine the grand prize winner.
Trivia
[
]
The show was somewhat inspired by "Carpool Karaoke" a segment from the CBS late-night talk show called The Late Late Show with James Corden.
Link
[
]