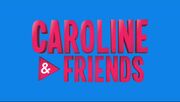 Caroline & Friends was a short-lived program based on America's Funniest Home Videos.
Broadcast
[
]
GSN: July 16, 2018-October 12, 2018
Packager
[
]
Vin DiBona Productions
Host
[
]
Premise
[
]
Rhea is joined by two celebrity friends of hers and they watch hilarious and amazing videos. Then, she guides the viewers through each of the videos. Then, Rhea and her two celebrity friends choose which video is the best. At the end of the show, the studio audience votes to see which video is the best. Finally, there is "The Big Rheaveal", where the best video of the day is revealed. The person with the best video wins a prize.
Rating
[
]