Host/"The Game Master"
Jack Black
Celebrities
Kristen Bell
Kelly Clarkson
Courtney Cox
Bill Hader
Adam Horovitz
Lil Rel Howery
Lisa Kudrow
Jennifer Lopez
Kate McKinnon
Mike D
Paul Rudd
Adam Scott
Ben Stiller
Kenan Thompson
Announcer
Ben Stiller
Broadcast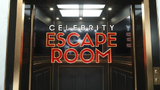 NBC: May 21, 2020
Packager
Red Hour Productions
Celebrity Escape Room was a special where celebrities from Jack Black's house tried to find clues with escape rooms. This was actually part of Red Nose Day.
Gameplay
[
]
The Host (Jack Black) is the all-knowing "Game Master" who puts his celebrity friends to the test as they work together under intense pressure to beat the clock, unlocking a series of surprising puzzle rooms to ultimately engineer their great escape in this uproarious and heart-pounding adventure.
Tapping into the wildly popular escape room craze, Celebrity Escape Room combines the drama and tension of a real-life video game with the side-splitting allure of the ultimate party game. All highly competitive with killer instincts, celebrities will work together and channel their inner Sherlocks to decipher clues and solve puzzles, brainstorm for solutions and combine their comedic talents to ultimately gain their freedom before time runs out.
When stumped they may only ask the Game Master for three clues to help them escape their complete isolation from the outside world. Each room that the players complete earns money to be donated to Red Nose Day.
Link
[
]