Hosts
Chris Jagger (1998–2001, 2002–2003)
Lynne Koplitz (2001–2002)
Broadcast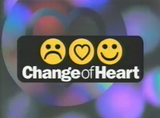 Syndication (Daily): 9/21/1998 – 9/18/2003
Packagers
Syndicated Productions
Divine Hammer Inc.
Telepictures Productions
Distributors
Telepictures Distribution
Warner Bros. Television
Change of Heart was a reality-dating game show where each member of an unmarried couple was sent on a date with a new man/woman and said if he/she wanted to break up or stay with this person.
Format
[
]
At the start of the show, the host asked questions to the couple, about what was good and bad about their relationship. Before attending the taping, each member of the couple was sent on a date with a new man/woman. At the taping, they would each discuss their dates with the man/woman they were set up with; the female half of the couple would talk about her date first, followed by the male half. Then, at the the end of the show, each member of the couple would decide if they should stay together, or if they had a Change of Heart (hence the name of the show).
Galleries
[
]
The Hosts
[
]
Videos
[
]
Ratings
[
]
Despite low ratings from the Nielsens, this show was on the air for five years.
Taping Locations
[
]
Los Angeles, CA (1998–2001)
New York City, NY (2001–2003)
Parental Rating
[
]

Trivia
[
]
The series was once paired up with the short-lived 1998-99 revival of Love Connection with Pat Bullard.
In Popular Culture
[
]
In the 2018 CNBC special Deal or No Deal: Back in Business, two pictures featuring Scott St. John show him wearing a white Change of Heart t-shirt since he was the executive producer of the show.
Links
[
]
Official website/Jagger era (via Internet Archive)
Official website/Koplitz era (via Internet Archive)
Official website/Jagger 2.0 era (via Internet Archive)
YouTube Videos
[
]