The topic of this page has a Wikia of its own: Chopped Wiki.
Host
Ted Allen
Judges
Alex Guarnaschelli
Geoffrey Zakarian
Marc Murphy
Amanda Freitag
Aaron Sanchez
Chris Santos
Scott Conant
Marcus Samuelsson
Maneet Chauhan
Broadcast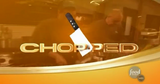 Food Network: 1/3/2009-present
Packager
Notional
Chopped is a reality cooking competition series that began airing on Food Network in January 2009. The program is similar in nature to Food Network's other competition shows.
Premise
[
]
In Each episode, four chefs compete. The show is divided into three rounds: Appetizer, Entrée and Dessert. In each round, the competitors are given a basket containing between three and five unrelated ingredients, and the dish each competitor prepares must contain all of the ingredients. Generally speaking, the ingredients are ones which are not commonly prepared together; on the episode first airing on February 10, 2009, the appetizer course had to contain watermelon, canned sardines, pepper jack cheese, and zucchini. The competitors are also given access to a pantry stocked with a wide variety of other ingredients. Each round has a time limit: either 20 or 30 minutes for Appetizer, 30 minutes for Entrée, and 30 minutes for Dessert. The chefs must cook their dishes and have them plated before time runs out. After each round, the judges critique the dishes based on presentation, taste, and creativity. The judges then decide which chef is "chopped" –- i.e. which chef prepared the least impressive dish. That chef does not continue to the next round. Thus, by the final round, only two chefs remain. In the final round, the judges consider not only the dessert course, but the entire meal presented by each chef as a whole. The winner of the final round wins $10,000.
Rating
[
]

See Also
[
]
Chopped Junior
Chopped Sweets
Chopped 420
Chopped: Next Gen
Link
[
]