Host
Ron Funches
Judges
Esther Choi
Laganja Estranja
Luke Reyes
Sam Talabot
Tacarra Williams
Broadcast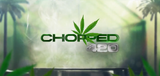 Discovery+: 4/20/2021-present
Packagers
Notional
Good Egg Entertainment
Chopped 420 is a reality cannabis cooking competition series and a spinoff of Chopped where four rising stars of cannabis cuisine tackle mystery ingredients while preparing upscale and refined cannabis dishes.
Premise
[
]
With access to a special 420 Greenhouse of cannabis products, the chefs compete to see who can best integrate THC and CBD in their dishes. To avoid elimination, they must impressive a panel of five recurring judges. During an episode, the chefs contend with spot prawns and borscht in the appetizer round. In the entree round, the remaining chefs are greeted with chocolate dentures, an ingredient you'd have to be "high" to come up with, while the last two competitors standing "blaze" into the desert round only to be faced with a bottle of ketchup. The chef that keeps a clear head despite all the "haze" in the "air" is crowned the 420 champion.
Trivia
[
]
In other episodes, the chefs are presented with sake popsicles to use in their dishes that will have the judges "flying high" and seeing double.
This was the first Chopped spinoff to air not only on its streaming service Discovery+ but also in the very same year, the second was Chopped: Next Gen hosted by Liza Koshy.
All five episodes aired on April 20 (a.k.a "4/20").
the "420" in the title (along with the date) is a reference about smoking marijuana.
The words THC stands for Tetrahydrocannabinol where it is a crystalline compound that is the main ingredient of cannabis where it can either treat or prevent nausea and vomiting caused by cancer medications when other medications do not work at all. Additionally, it can also increase the appetite of people who are living with AIDS. While CBD stands for Cannabidiol, a Phytocannabinold that was discovered in 1940 and it is one of 113 identified Cannabinolds in cannabis plants along with Tetrahydrocannabionol and accounts for up to 40% of the plant's extracts.
See Also
[
]
Chopped
Chopped Junior
Chopped Sweets
Chopped: Next Gen
Link
[
]